You never get a second chance to make a first impression.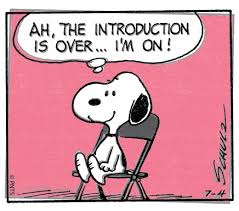 If you are giving a presentation in front of an audience, people are starting to judge you before you start to speak.
If you are being introduced by an event chair or MC, people will start to form an opinion of you based on that introduction.
It is therefore important that you have control over the introduction, and where possible you should write it yourself.
If you don't, then the Event Chair will do their best with whatever information they have to hand, and it is unlikely to be what you would want.
Keep it concise and to the point and make yourself sound interesting.
The introduction needs to:
Give you authority – Briefly state credentials or experience.
Show compatibility – Why you are right for this audience.
Give a Teaser – Tell the audience what they will learn
Tell the audience your name – This is best kept to last
Make sure you tell the introducer to read your intro exactly as written.  Also tell them that they should not let the audience know that you wrote it or asked them to say it.
Make sure the introducer has a copy of it well in advance and bring a copy with you in case something goes wrong.
I recently wrote this introduction for a keynote speech I was giving to a group of entrepreneurs.
"For over 30 years our next speaker has worked with most of the worlds top companies (authority) and as a fellow entrepreneur (compatibility) he is going to show you how improving your communication skills will increase your profits (teaser). 
Please welcome James McGinty."
Keep it short and simple and remember the person that knows you best is you.